Happy Aniversary to Sarah and Doug who are celebrating their one year anniversary this week! We hope that you will enjoy these photos as Sarah and Doug walk down memory lane reminiscing about their magical winter wedding last year.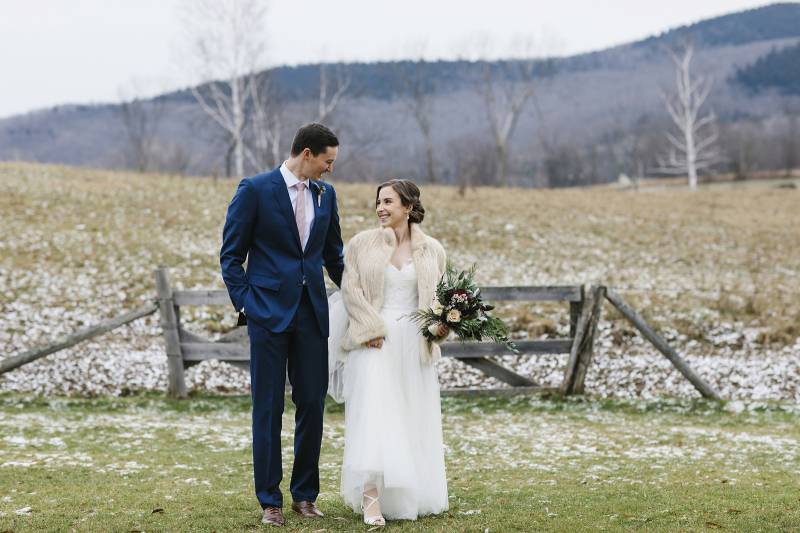 Sarah and Doug never crossed paths during their time at Boston College, but fate connected the two later on when they met catching up with some BC classmates.
When their relationship had grown more serious, Sarah wanted Doug to meet her grandmother. The two planned a trip to Scottsdale, Arizona where they met up with Sarah's uncles, Tim and Steven. Before the group went to see Sarah's grandmother, Sarah and Doug planned a day trip to Sedona to celebrate Sarah's birthday. During their adventure, the two went for a hike, and Doug proposed at the top of the mountain! Sarah was shocked! "The next day we got to tell my grandmother and show her the ring, and she was beyond happy!" said Sarah.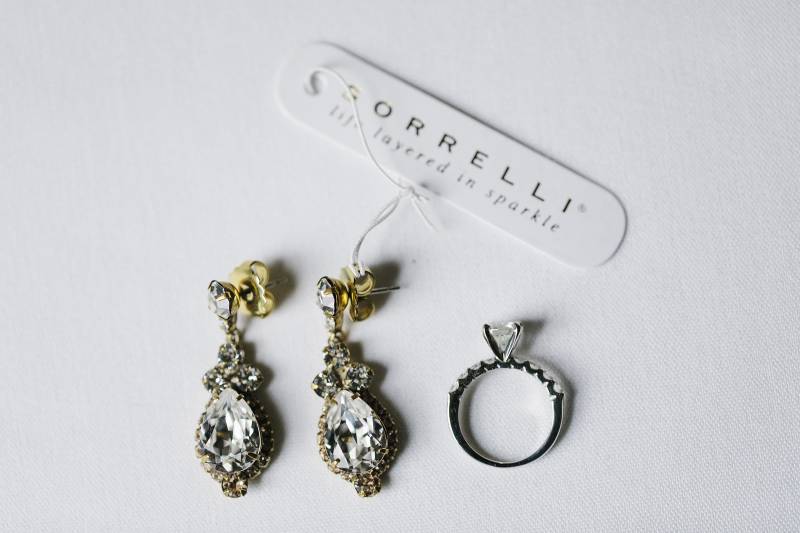 Choosing Vermont for their destination wedding made perfect sense to the couple:
"Doug grew up skiing at Sugarbush Resort and spending winter weekends at his grandmother's farmhouse in Warren, Vermont. We spent a lot of weekends up there skiing during the first winter we were together and knew it was a place that was both beautiful for a wedding but also meaningful for us as a couple" said Sarah.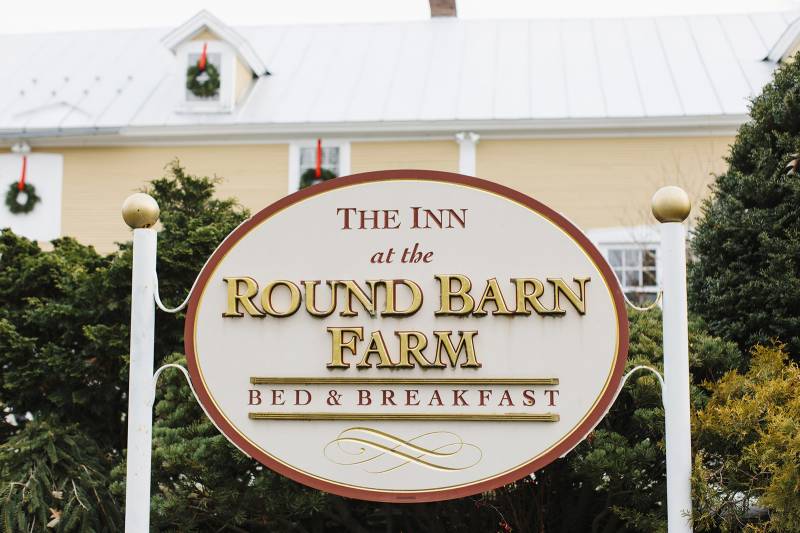 When the couple toured The Inn at The Round Barn, they knew they had found their venue. "It took our breath away. It was elegant yet rustic. And the people working there are the nicest folks around," Sarah explains. After finding the perfect venue, Sarah and Doug set out to plan the wedding of their dreams.
With the help of Sarah's talented mother, the couple embraced a do-it-yourself spirit. Sarah and Doug created the escort card display, while Sarah's mother built the wedding arbor. She also designed and painted a custom welcome sign mirror. What wonderful gifts for their wedding!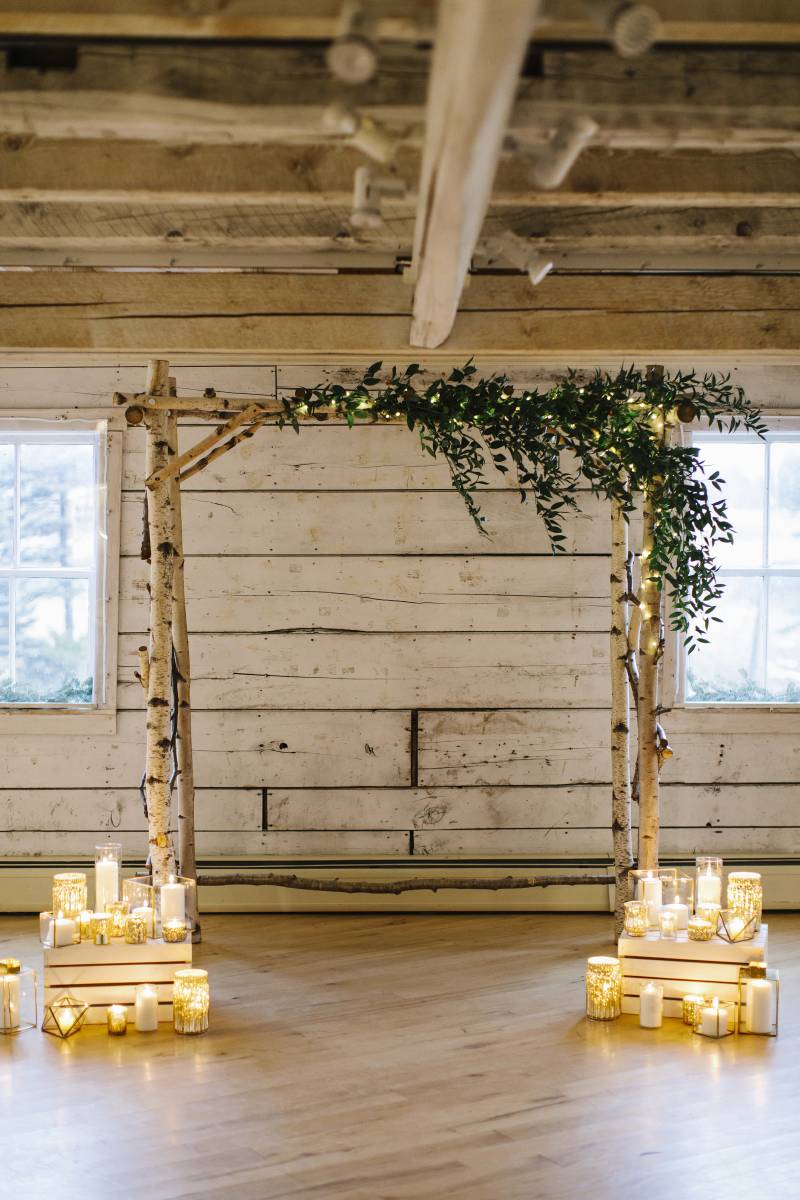 Sarah and Doug decided on spending a few moments together for their first look...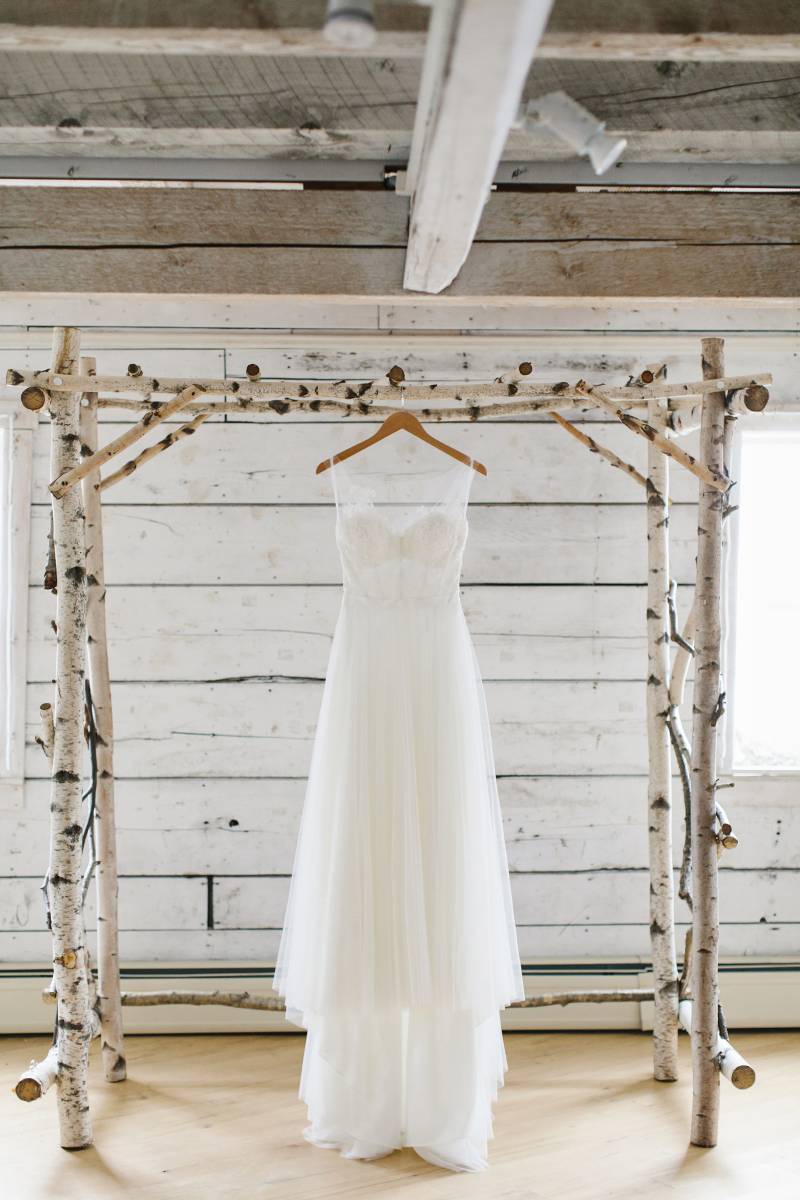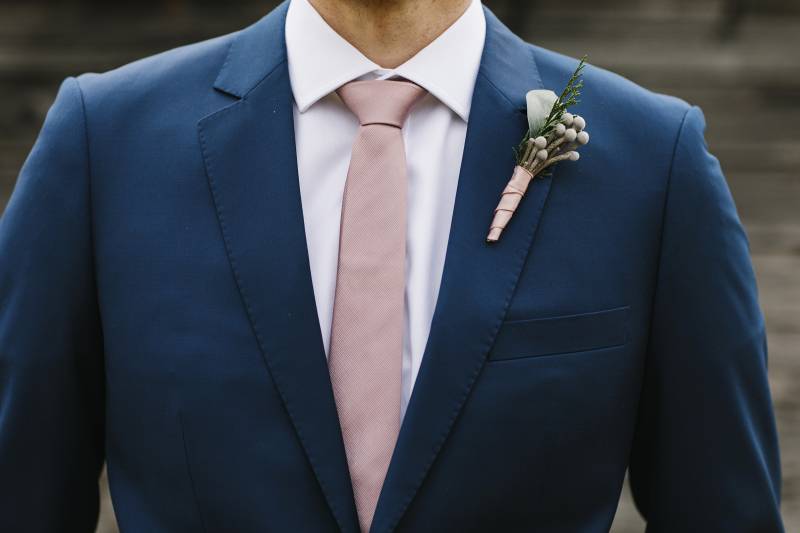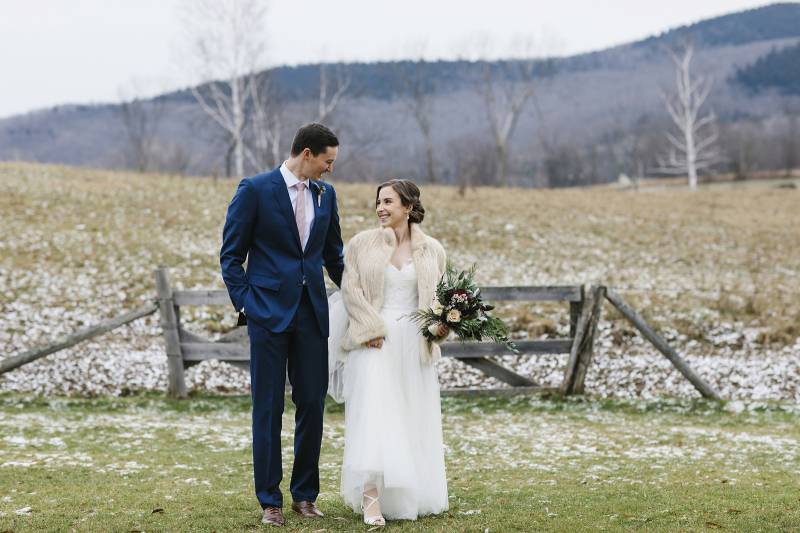 On December 9th, 2017, Sarah and Doug celebrated their love with around 110 friends and family members. While Sarah calls their big day her "favorite day ever", she cites dancing the night away as the couple's favorite memory.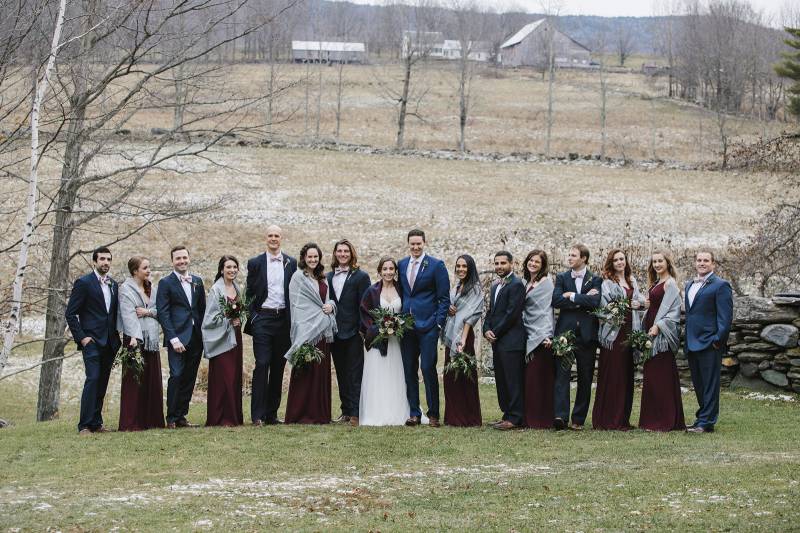 The chef at The Round Barn created a menu that included the local and seasonal items keeping with the Sarah and Doug's vision including hot apple cider.
For couples planning their own Vermont wedding, Sarah and Doug encourage them to incorporate the unique flavors Vermont has to offer. "We served Vermont craft beer which was a big hit and our favor was homemade Vermont cotton candy from Brigham Hill Maple", says Sarah.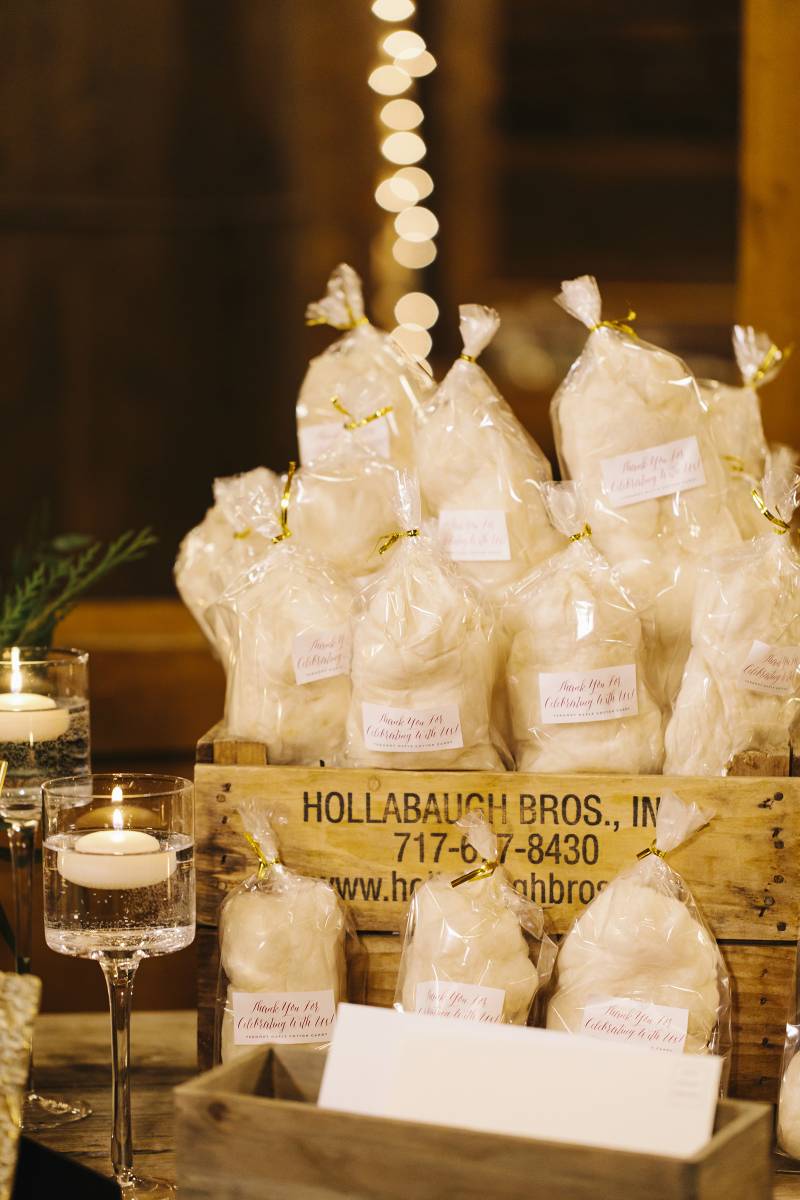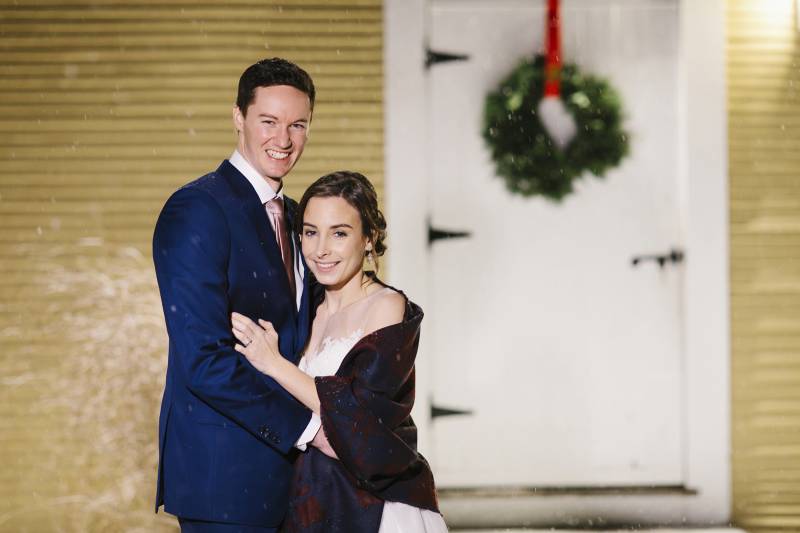 Happy Anniversary, Sarah and Doug! We hope you enjoyed your trip down memory lane!
To see more photos from Sarah and Doug's wedding, visit our blog on how to incorporate flannel details into your Vermont wedding in Flannel Season Weddings.