Every bride wants to feel beautiful on her wedding day. That's why choosing a makeup artist who understands your vision and can execute it is important. Hillary Fay is a Vermont-based, certified makeup artist who meets brides on location to help them look and feel their best on their big day. With winter around the corner, Hillary is sharing her tips for winter brides and her advice for choosing and working with your makeup artist.
Hillary says the most popular look for Vermont brides year-round is the "natural but enhanced" look. "I highlight what they love about themselves!" she says. That said, during the winter months bold red lips and a dramatic eye look become more popular as well.
Whatever look you go for, Hillary says proper skin prep is huge for the cold winter months in Vermont. (Healthy, moisturized skin = flawless makeup application.)
Hillary encourages brides to start finding a skincare routine that works for them months (not days) before the wedding. While everyone is unique, most people find their skin becomes drier in the winter, so hydrating masks and moisturizers can help keep skin plump and happy. "And wear SPF! People forgot the sun still shines in the winter months," reminds Hillary.
If you're having a difficult time finding products that work for you, Hillary suggests consulting with a trusted esthetician for personal recommendations.
As mentioned, red lips are a popular choice for winter brides. (Heck, even if you're not getting married this season, you may be planning to rock this trend for a holiday party!)
Finding your right shade of red all comes down the the undertone and coloring of your skin, explains Hillary. Red lipsticks can have a warmer, orange base, or they can have a cooler, blue base. Depending on the warmth and color of your skin, you can determine the best red for you. If you have warmer undertones, choose a warm red; a cooler red will compliment cooler undertones.
To make lipstick last, Hillary follows three steps:
Moisturize your lips.
Line your lips with a red pencil that is close to, or a bit darker than your lipstick. PRO TIP: Cover your entire lips with the lip liner (instead of just lining them), it will help give the lipstick a base to stick to.
Apply your lipstick, and you're good to go! PRO TIP: Check out liquid lipsticks that dry down to a matte finish; these are often very long lasting. Hillary says the Maybelline Super Stay Matte Ink is a personal favorite.
Also, don't worry if you decide to forgo this trend. "Sometimes, brides come to me thinking they want a bright red lip, and when they see themselves in it, they completely change their mind-which is okay!"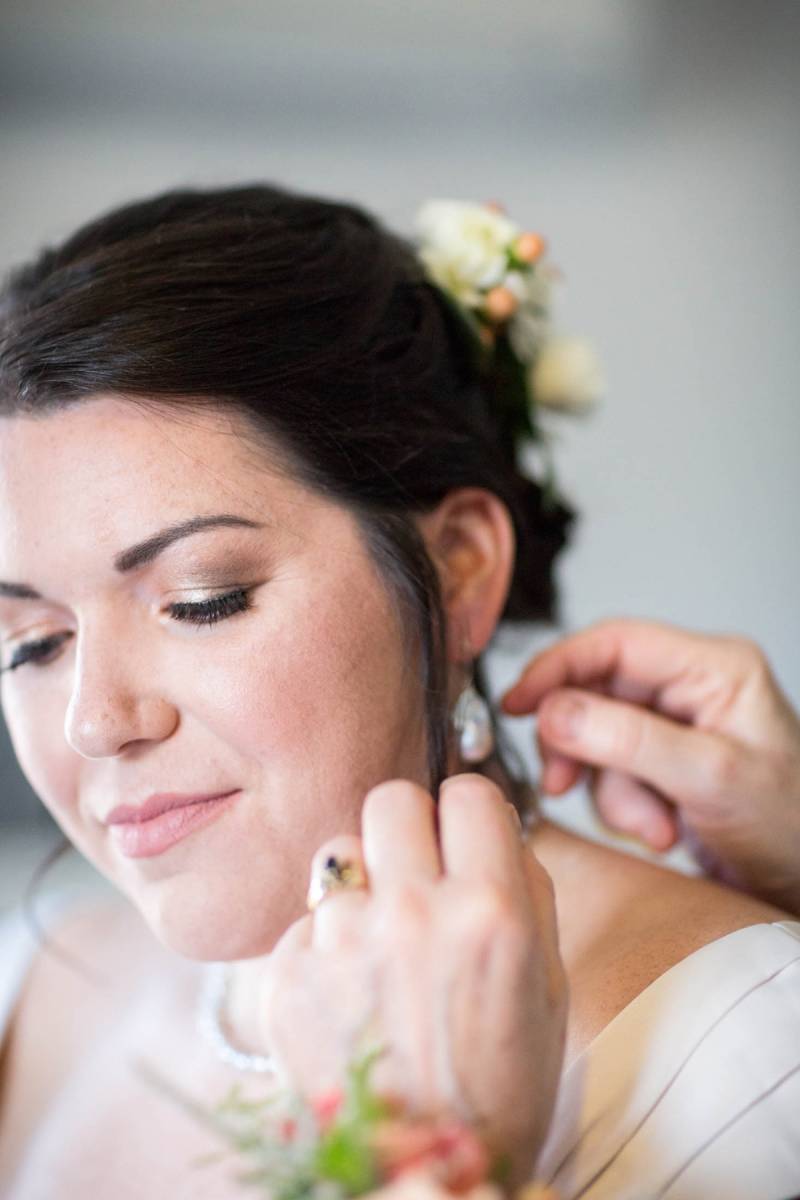 "There are many great makeup artists in Vermont, all ranging in various skill sets and price ranges," says Hillary. To find your right fit, plan your budget and start doing some research.
One key thing to consider is a makeup artist's portfolio. Ask yourself if you can see yourself on their website-does your style align with their work? "If you're searching for a soft, natural look, and the artist's page is all dark and edgy looks, they may not be the best fit for you," explains Hillary.
Lastly, don't be afraid to ask questions. "Any professional makeup artist should be able to explain their sanitation practices, pricing structure, and provide a solid contract to protect you throughout the wedding process," says Hillary.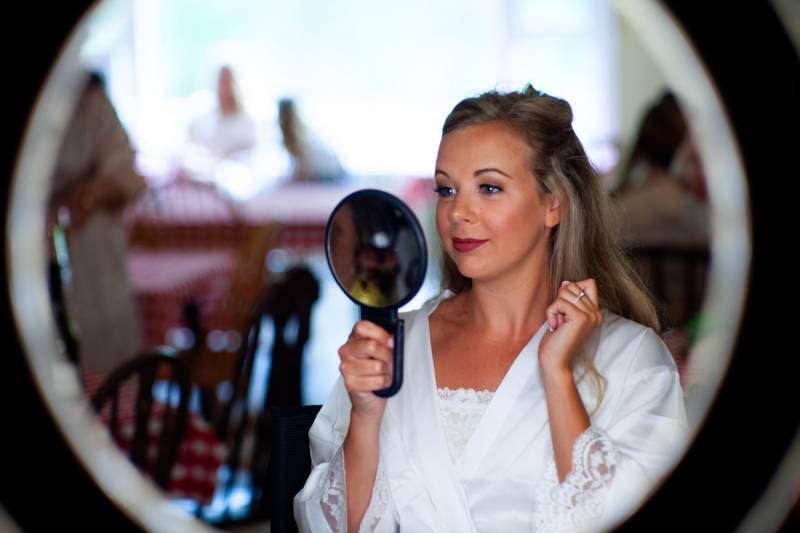 Once you select your artist, making the most of your trial run will help everyone be prepared for the big day. "I personally will send out a 'trial run prep list' which goes over what they should wear (white), what ideas they should bring, etc."
Other things to keep in mind:
What is your wedding theme? Are you having a rustic barn wedding? A glam, Gatsby-style party? This will play a factor in determining your look.
Bring a photo of your dress. Again, this is important in determining your look.
Tell your artist what you typically wear for makeup on a daily basis; this helps the artist to understand what you're comfortable wearing.
Bring inspiration photos of looks you like. "However, Pinterest can be a dangerous place for bridal looks," cautions Hillary. "Those images are often heavily Photoshopped. I love to see brides looking at more realistic images from local makeup artists."
Lastly, be sure to tell your makeup artist any allergies or sensitivities you have. That way, the artist can review their product line-up and remove anything that you might be allergic to. "For example, the most common makeup allergy I hear about is latex, which is often found in lash glue."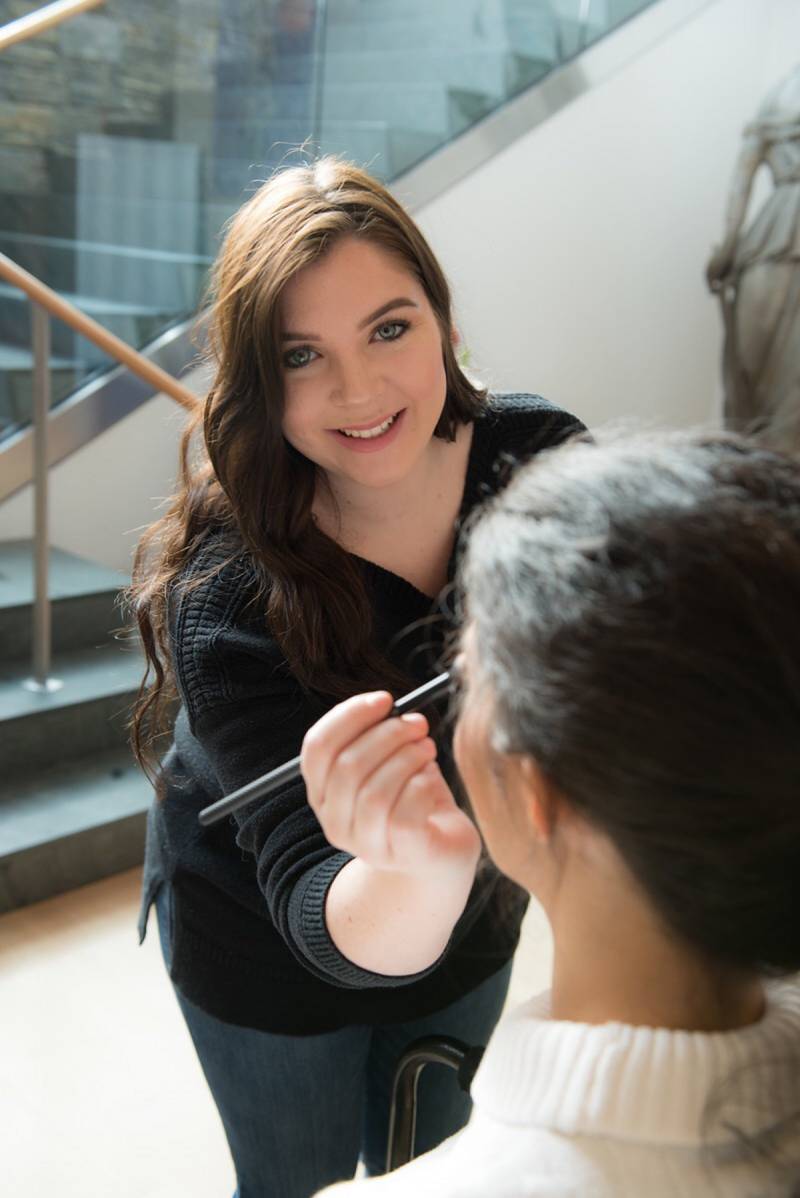 Like her onsite makeup services, Hillary hopes these tips help brides feel confident as they prepare for their wedding. Thank you for sharing your expertise, Hillary!