Calling all those with a sweet tooth! Ever think about having a unique buffet at your wedding to satisfy that sugary craving of yours? Bars and buffets are becoming quite the trend at weddings. People love seeing the colors and nostalgic treats of an old fashion candy bar, the warm and gooey taste of a smore's buffet, and who doesn't love an ice cream sundae bar (especially if it's Ben & Jerry's!)? There are so many ways to turn your favorite dessert into something your whole wedding entourage can enjoy, whether it's done by a hired vendor or your own special little DIY project. Read on to see some examples and see if any peek your pallet!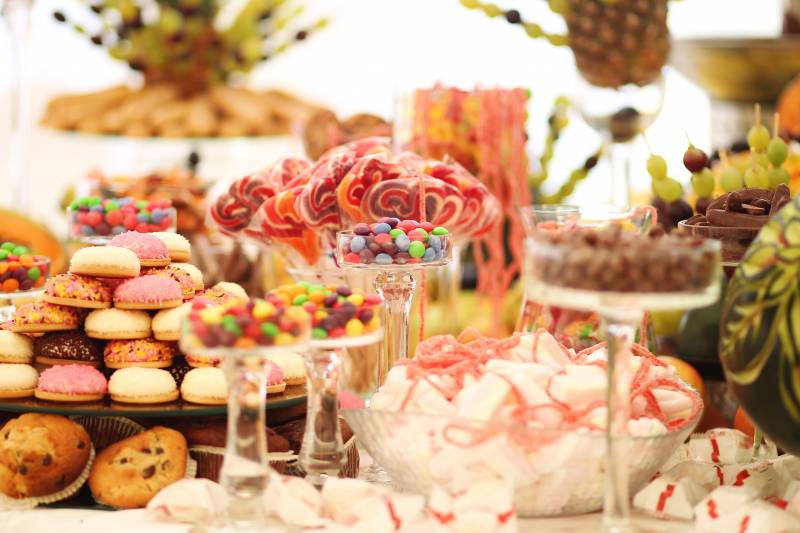 S'mores Bar
S'mores are the staple of every childhood campfire, so why not bring them back for your wedding!? While it can be a simple do it yourself project, one can also be set up very elegantly by a vendor like Cloud 9 Caterers. Cloud 9 has done a few S'mores bars for clients in the past that have been over the top delicious! Karsen Eckweiler, an event assistant at Cloud 9 shared a few tips and tricks for setting up that perfect S'more bar on your wedding day. She says, "In the most basic s'more bar you need three elements, the graham crackers, chocolate and marshmallows. From there, it can be easily personalized to fit your vision and tastes.". And it can really be that simple! You will of course want to make sure that there is a heat source nearby (whether it be a fire or individual cookers at each table), bowls and trays with tongs to hold the different toppings, sticks for roasting, and don't forget napkins or wet-naps! We all know the sticky finger syndrome that S'mores can cause. For a more adult or elegant version of a S'mores bar, Karsen suggests using gourmet chocolate bars, and surprisingly even jam preserves have been a success! Considering the variety or amount of toppings you would like at your S'mores bar will determine the cost, but adding in some Oreos, Peppermint Patties, and Reese's cups won't set you back in the slightest. Whether it's for the rehearsal dinner, or the wedding itself, a S'mores bar could be that perfect touch of customizable nostalgia that everyone can enjoy!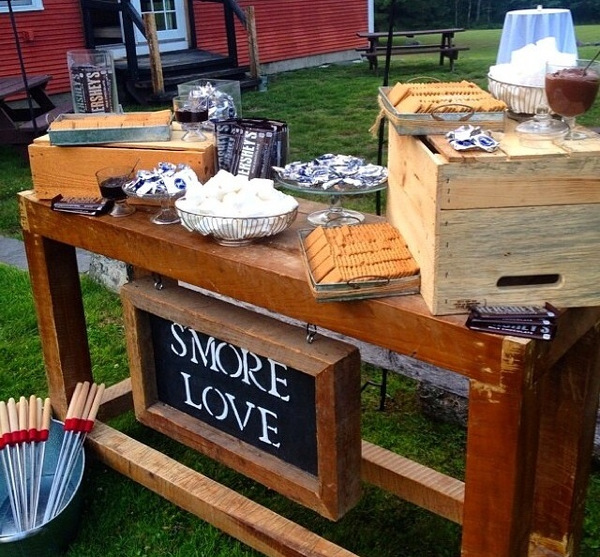 Candy Bar
Another sweet and trendy option for a wedding is the much sought after candy bar! This is definitely DIY friendly, and can be as customized and personal as you want. Make all of the candies match your wedding colors, get special M&M's ordered with your initials on them, and personalize little candy bags that your guests can take the treats away in. Much like a S'mores bar, there are certain things you want to remember when setting up the buffet aside from personalization. You're going to want a few glass jars of various sizes to hold your candy. We suggest a few apothecary jars that you can pick up at any local craft store. Scoops or tongs will be necessary for your guests to shovel in their share of sugar, along with bags with twisty ties to make it simple for people to take treats home. Dress up your buffet table with some unique signage and decorative linens to tie in your theme, and to make it clear to your guests what the candy is for. Now what are we forgetting? Right, the CANDY! Depending on the size of your wedding, you're probably going to need anywhere between 30 and 50 pounds of candy, and it's totally up to you in terms of where you get it. We like to support our local businesses here at Vermont Weddings, and in terms of candy, it actually might be better for your wallet if you do buy local. Our own Lorin Holmes recently ordered sweets for a candy bar from Amarah's Chocolate Company, and found that it was cheaper (and much more delicious) than ordering candy online. Overall, keep it simple and sweet, and your guests will enjoy the treat.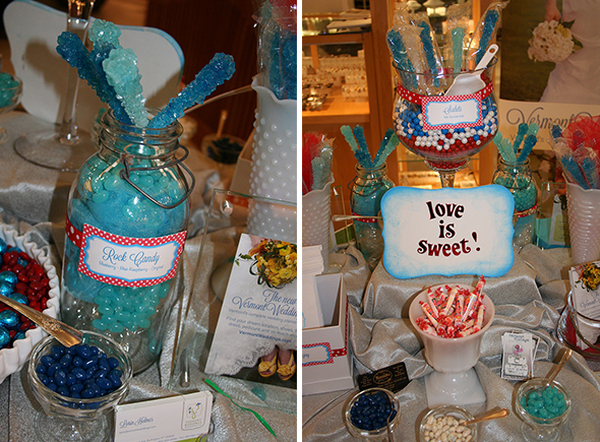 You can even add some vintage items to your nostalgic theme - like this old fashioned scale and Candy Land game board, photo compliments of Vermont Vintage Rentals.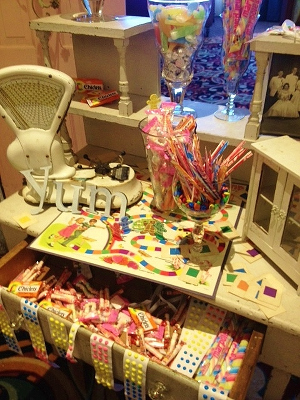 Ice Cream Bar
Looking to serve something a little less warm and gooey and a little more cold and creamy, then an ice cream buffet might be a better direction for you! Just like any other buffet, you can personalize it as you please, so make it your own and maybe share a story of you and your spouse's favorite flavor! Everyone screams for ice cream but everyone especially screams for Ben & Jerry's, so if you're looking for a little help with your buffet, you know who to call! Ben and Jerry's catering team offers 3 options for your wedding starting from the least expensive "Cup or Cone Party" to the most expensive "Deluxe Sundae Party". This ranges from the basic flavor options (including frozen yogurt and sorbet) to sundaes with multiple toppings, cookies, brownies, and my personal favorite, hot fudge. Don't forget bowls and spoons in case your guests aren't feeling a cone, and also remember to properly label any nut related toppings in case of allergies! You can't really go wrong with ice cream and toppings so have fun with it, and your guests will have fun with it too!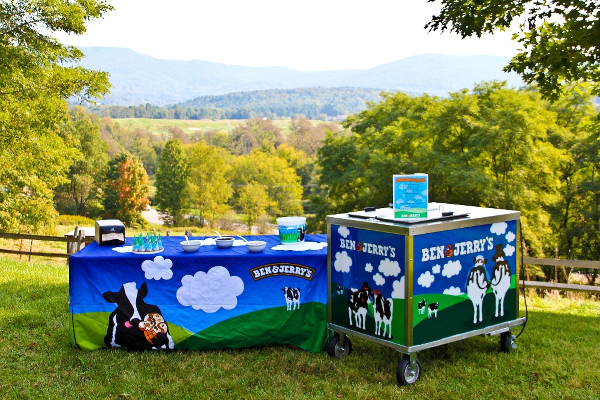 Creating one of these fabulously fun buffets at your wedding is really as simple as gathering the ingredients and making it your own. If you don't have time to put together one of these sweet tooth bars, however we have Vermont Vendors waiting at your rescue. It's your party, you can serve sweets if you want to (I'm sure your guests won't mind)!