Does the idea of getting married on a serene Vermont farm sound appealing to you? Are "rustic" and "unique" two words that come up when you describe your ideal wedding? The Twin View Barn at Whitford House may be the venue for you!
"This property is perfect for couples who envision a relaxed, Vermont country feel with gorgeous surroundings, and who wish to make their wedding experience unique," says owner Jeff Nottonson.
Couples looking for a customizable property (vs. a turnkey venue) will love the ability to create a one-of-a-kind Vermont wedding experience at Twin View Barn at Whitford House.
The Barn boasts expansive views of the Adirondacks to the west and the Green Mountains to the east. "You can watch the sunrise and sunset without taking a step," remarks Jeff. With 20 acres of expansive lawn and open meadows, there are many options for ceremony and tented reception setups that take advantage of these panoramic views.
The post-and-beam barn can also be used for microweddings or rehearsal dinners if a couple wants a rustic, indoor setting. The Barn is also the perfect spot for getting ready the morning of the wedding.
A two-night stay for two in Twin View Barn is included with a wedding package (seasonally available).
Additional lodging is available at Whitford House, the lovingly restored 18th century Vermont farmhouse across the lawn.
The Barn has a rich history; it's the oldest structure on the land, which was initially cleared for farming around 1800.
Upon purchasing the property, Jeff and his family made major improvements. They're excited to offer it as a vacation rental and wedding venue in the Whitford House tradition, which has hosted weddings for the past thirty years. "With lawn adjoining Whitford House, we have made it a natural continuation of our B&B property," says Jeff.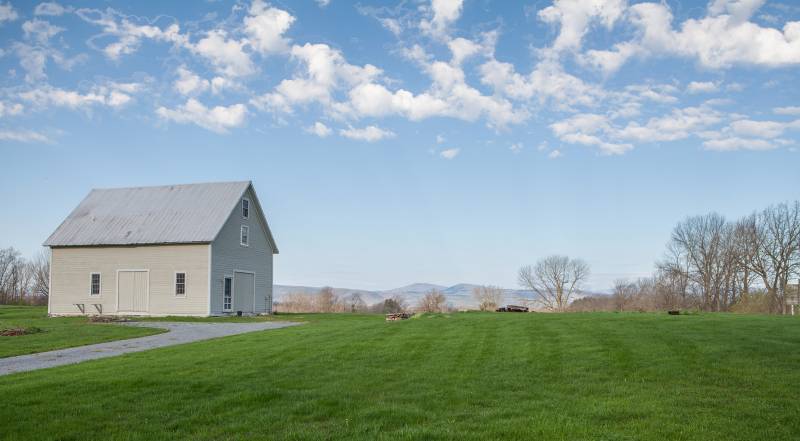 Two questions we always ask...
What's your favorite moment during a wedding?
I've performed with my former band during many a wedding. Watching the wedding couple dance with their friends and get into the music to unwind is usually the most enjoyable part of the evening!
What's your favorite thing to do in Vermont?
Anything outdoors is rewarding in Vermont. Whether hiking, cycling, skiing, jumping in a local swimming hole, or boating on Lake Champlain, Vermont is an outdoor playground.