Located in southern Vermont, Chez Nous is a unique property that combines the Vermont charm of a barn with the elegance of an estate home. Originally built in 1900, the historic property underwent an ambitious cellar-to-rafter restoration by owners John and Cheryl Mincarelli.
Chez Nous is a great venue for couples who want a weekend-long celebration. Couples get exclusive access to the property which means they can host every event of their wedding weekend on site.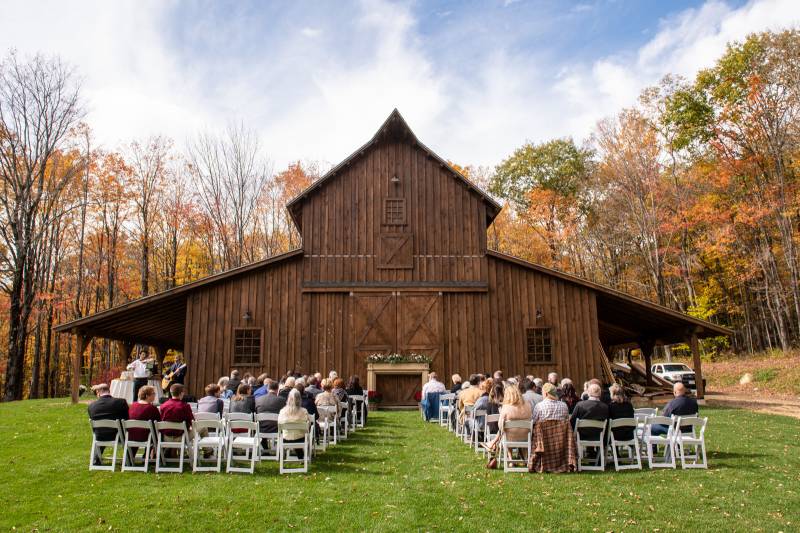 Chez Nous was built in 1900 by two sisters with the goal of welcoming friends and family into their home. With twenty five rooms and grand details, it was an anomaly in the area, which was mostly farmland. Above the original mantle in the library, an inscription reads, "Notre Petite Coins Est Si Doux, Pour Vivre Heureux Restons Chez Nous," which translates to "Our little corner is so sweet, to live happy, let's stay at home".
The house has six guest rooms with modern amenities and vintage charm. In addition to the guest rooms, there are several gathering spaces to host events. "Chez Nous has rooms large enough for everyone to be together, and smaller private spaces for people to relax and have a quiet conversation," says John. "It is a mansion, and yet it always feels like a family home."
"The house and barn lend a multitude of possibilities for your perfect dream weekend," says Cheryl. For example, couples could host a rehearsal dinner on the covered, wrap around porch and enjoy an intimate cocktail welcome party in the library.
With exclusive property access, Chez Nous becomes your private estate for the weekend. And, like the original inscription suggestions, you'll want to stay in!
The new barn sits behind the mansion and is the perfect space for a Vermont barn wedding reception. At 3,000 square feet, the barn can host events up to 250 people. One particularly unique feature is that the barn has heat and can be used in all four seasons.
Large chandeliers, stately beams, and a series of french doors bring some of the grandeur of the mansion to this space. The private loft with a balcony is a great spot for the couple to steal away for quiet moment during the reception.
Between the barn and mansion, Chez Nous is truly a unique venue for weddings large and small.
The property is actually central to John and Cheryl's own love story. After carefully restoring the property together, they celebrated their own wedding at Chez Nous in 2019. "Our wedding was the first at Chez Nous and perfect in every way," recalls Cheryl. "We're excited share Chez Nous with other couples!"
Two Questions We Always Ask:
What's your favorite moment during a wedding?
The couple's first dance is my favorite moment during a wedding. It is so very special. The couple have put a lot of thought into a special song that means so much to the two of them, they are now a bit more relaxed and they get to hold each other close, and then family and friends join and the party begins!
What's your favorite thing to do in Vermont?
John and I love to hike the woods and trails of Vermont. We are so lucky to have the beauty and fresh air here. I love spotting the flowers and plants that grow wild in the woods and regularly seeing wildlife. If you are out in the evening, taking in the beauty of the night sky cannot be compared, it is just magical.
Thank you, Cheryl and John!
Looking for an estate wedding venue in Vermont? Learn more about Chez Nous in the vendor guide!