Do you know that feeling when you are doing something that you totally enjoy, and it seems like you could continue forever? Almost like no time has passed, yet you have been working for hours? That was My Big Day as a Wedding Florist with Nancy Murray and her team at A Schoolhouse Garden. I am thrilled to be able to tell you all about my fantastically floral day at Seven Springs Estate in Stowe, Vermont.
I have been looking forward to this day since there was snow on the ground! When Nancy and I came up with this idea last winter, I thought that I would be just an extra set of hands for the day. I may have been just helping out, but when I left Stowe that evening, I felt that I was part of a team.
During the day, these extra hands did a lot of little things. The first thing I learned it that floral designers have incredible attention to detail...even the green tiny leaves on the green grass backdrop...that was one of my jobs, pick up any and every fallen leaf!
Floral designers carry lots of heavy things. My hands were full most of the day loading and unloading the beloved Ruby, Pearl, and Sterling, A Schoolhouse Garden's team of delivery vans. I carried buckets of flowers, water buckets, empty buckets, bouquets, garland, escort cards, vases, urns, arbors, toolkits, iron stakes, garbage, the list goes on. One of the heaviest items of the day were these gorgeous and unbelievably cumbersome urns. I carried them when they were empty and look at how even more beautiful they became after Nancy's magic!
One of my tasks from the timeline was to wipe down each centerpiece and place on each table along with the candles holders and candles. I have to say, I did an outstanding job...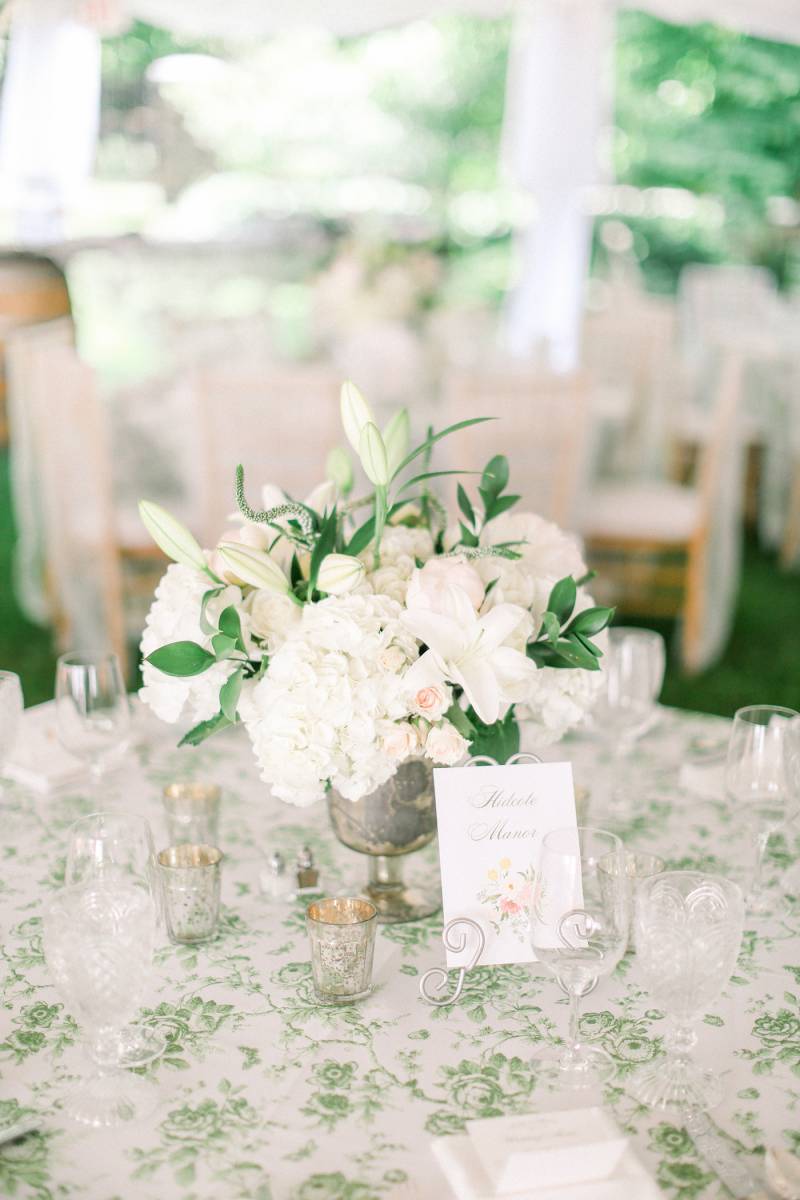 Here we have Nancy in action creating the gorgeous floral swag for the entrance to the tent as well as the ceremony arbor...
It was amazing to see the details come together. When we first arrived, there was a massive and empty long wood table. With incredible ease, Nancy and her team transformed that table into a luscious piece of art right before my eyes!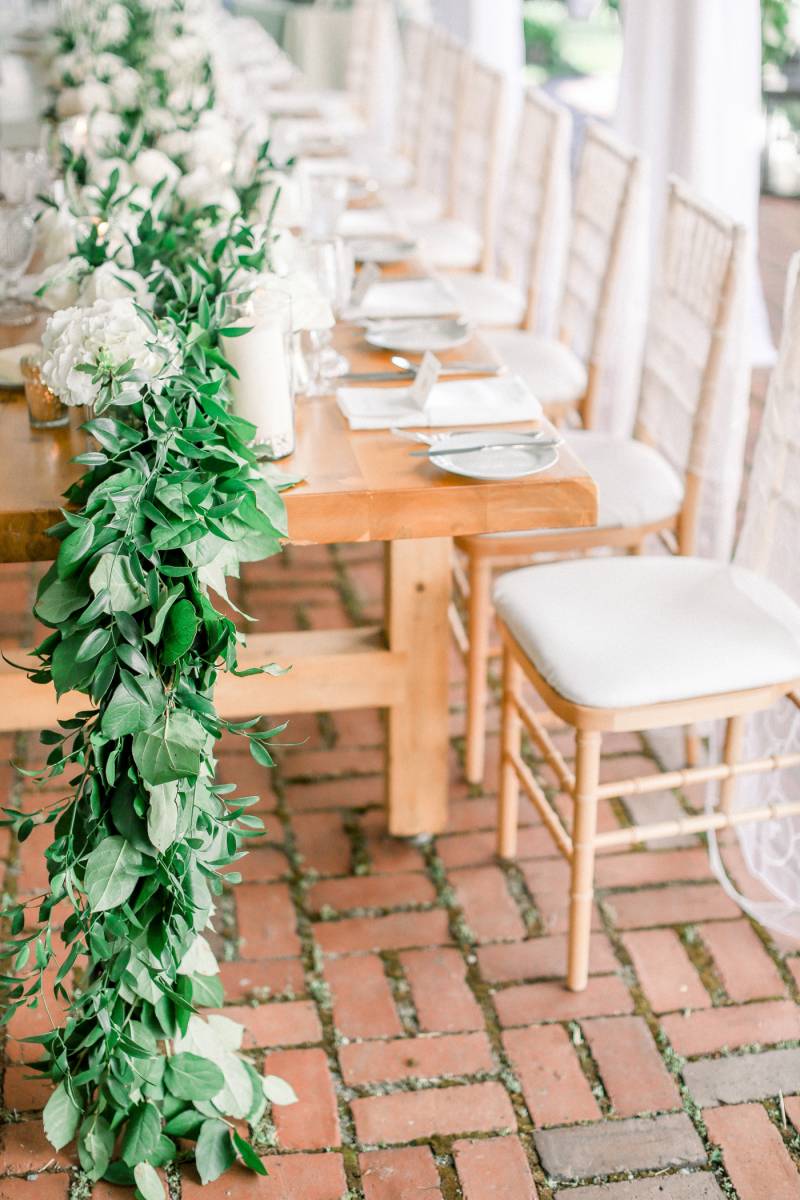 I just love the romantic English garden theme that the flowers and designs created at this gorgeous property.
I learned that there are many considerations when you are planning your wedding day, including the decision to do a First Look or not.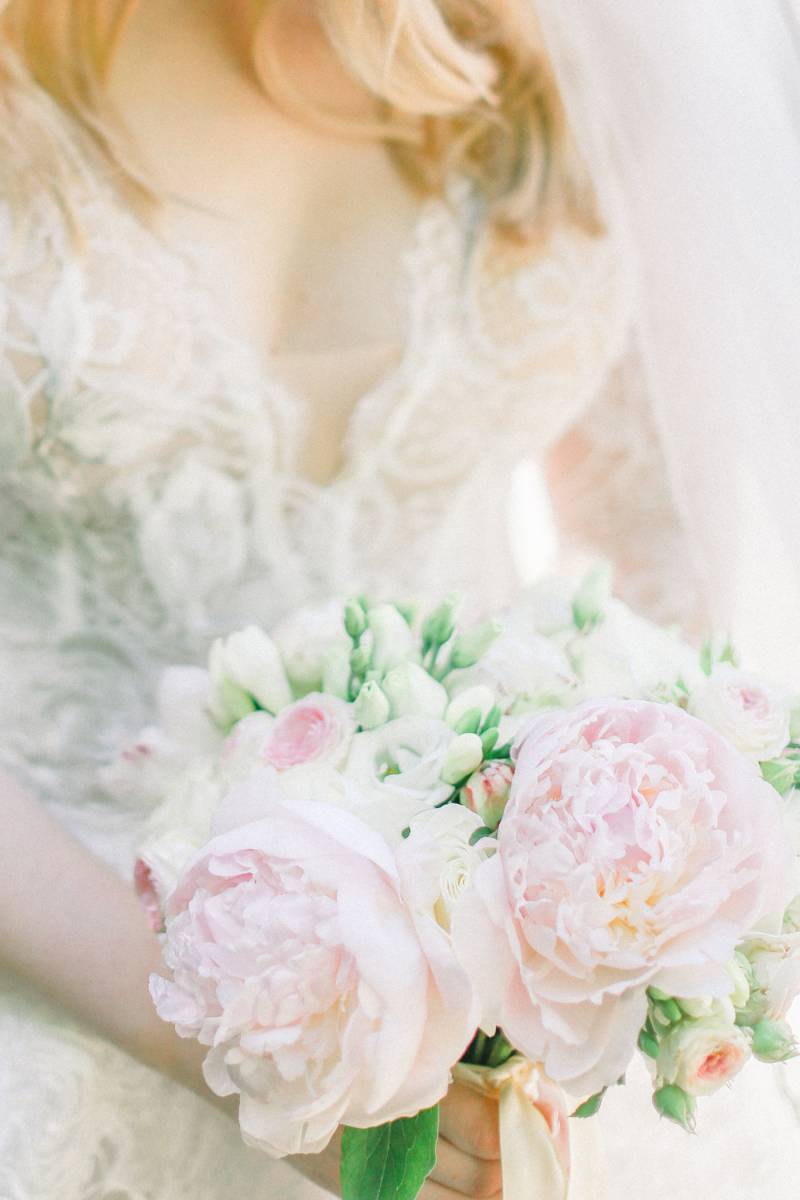 Many photographers and couples love doing a First Look due to the fabulous photo opportunities before all the chaos of the day. However, Nancy points out that if you do a first look before the ceremony, your flowers will be out of water for an extended period of time. Depending on the flowers selected and the weather, this may be an important concern. Nancy suggests a second bouquet for the First Look so that your ceremony bouquet will look its best the entire day and into the night.
The product of Nancy's organization, knowledge, and experience created an atmosphere of patience and ease throughout the day. I had lots of questions for Nancy. Despite our timelines, Nancy always had the time to answer my questions and to show me how to do my tasks properly. No one seemed flustered during the day...in fact, it seemed like we were all just having fun being creative. I can see that Nancy's patient and confident demeanor would put the most nervous of clients at ease.
The inspiration for the day's floral design was an English Country Garden with a romantic, intimate, and family focal point. The curated blooms are a testament to their inspiration...
Best wishes to the happy couple, Emily and Alistair!
While speaking with Nancy Jefferies-Dwyer owner of NJOY Event Planning and exclusive planner for Seven Springs Estate, she told me, "Nancy and I first met 15 years ago when I was coordinating one of my favorite events, Jake Carpenter's 50th birthday party in Stowe. This celebration was an event planner's dream but also had its challenges - we were given artistic license to create a spectacular themed party but with only two months to bring it all together. Luckily, Nancy joined the team and brought her "A" game of creativity & imagination with precise attention to detail. I love working with Nancy and her team because they always give me exactly what I expect, and then more. Her artistry is always fresh and leading edge. The "Two Nancy's" - the flower lady and the planner - a great team!
And I felt that the word "team" resonated with me the entire day. Nancy's favorite part of the wedding day is the moment when she can say to her crew, "Amazing day - Great job!" She loves seeing the result that until that day was only a plan on paper and now is a beautiful reality.
I loved every minute of this day. I would have to say my favorite moment was when we took this team photo. After many hours of hard work, we finished the setup of the arbor, the head table, guest tables, urns, aisle garland, tent entrance, escort table and I heard Nancy say, "Amazing day - Great Job!"
Indeed, it was an amazing day and we did a great job!
Special thanks to the floral team pictured from left to right - Maya, Dori, Lorin (that's me!), Julie, Bethany, Nancy, and Melissa (not pictured).