Andy got his start in photography when his brother set up a darkroom in their basement when he was in the 8th grade. He has been behind the camera ever since! Andy has been photographing weddings since 2000. In 2001, he made the switch to digital, and he still has many fond darkroom memories! Andy specializes in shooting weddings with a documentary style. With his photojournalism background - photographing for Vermont's largest newspapers along with regular contributions to the Associated Press - he enjoys visual storytelling. With the Vermont landscape as the backdrop, weddings provide excellent material for his craft.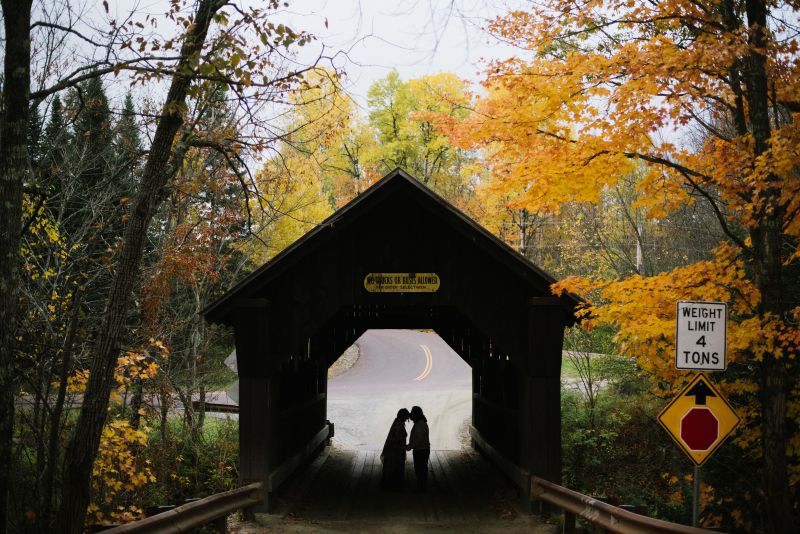 Andy believes that Vermont is the ultimate location for a wedding. With so much natural beauty and style to so many of the venues dotted throughout the state, photographing weddings here is a real joy. Vermont's natural beauty. The character of each location. The professionalism and passion of the wedding vendor community. It's important to all of us who serve our wedding clients that we give them the best experience and product possible. We Vermonters are hard-working and passionate about what we do and care about the client experience.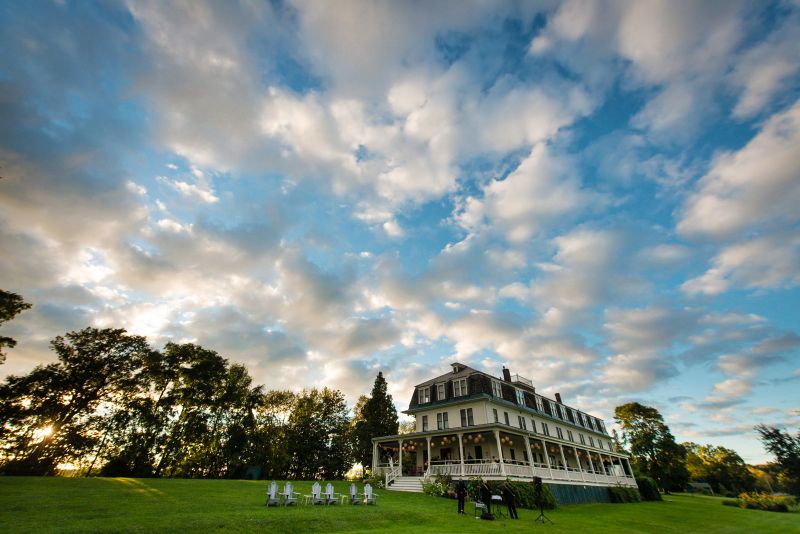 I was on the chairlift in front of Heather & Jon, which was at the Hermitage Club in West Dover. They are big skiers, so it made sense to take a chairlift up to the top. Her veil was blowing perfectly in the breeze.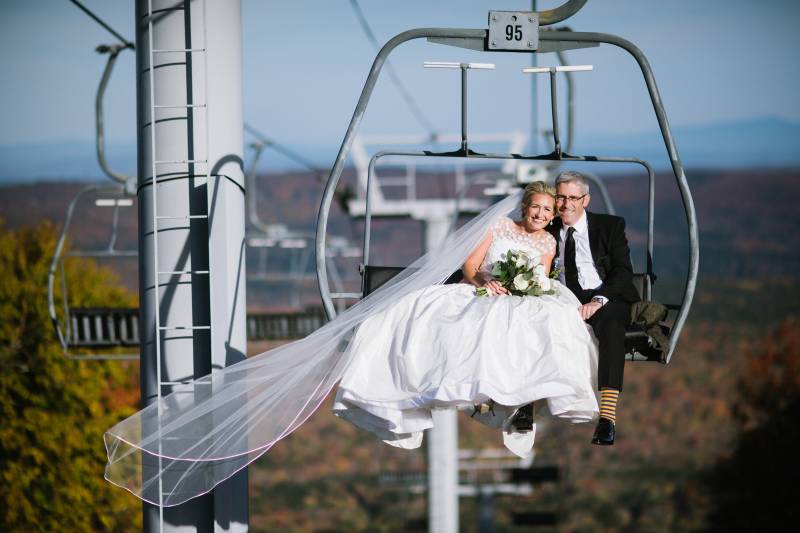 Andy is a moment-driven photographer. Andy explains, "I go where the action is. That's half of my job: to be in the right place at the right time. Experience helps in this pursuit. Awareness does, too. I LOVE capturing those emotion-rich moments, the tender ones, the crazy ones, and everything in between. All compelling photographs tell a story and stories are made up of significant moments. I'm there to capture those key moments creatively.
Crazy, unscripted moments always happen during the reception. This image captures one of these moments precisely...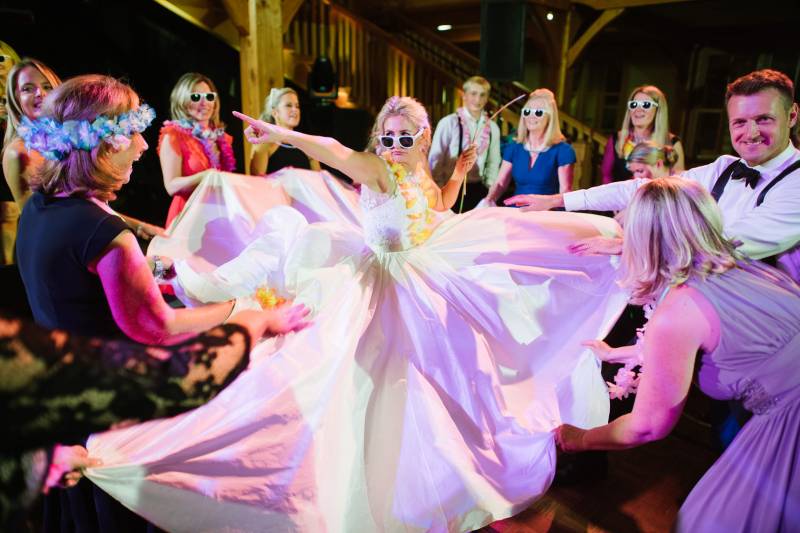 This was shot at Isham Farm in Williston, Vermont which is a magnificent tract of land. I love that large tree in the background and wanted to feature it in at least one of their photographs. Caitlin, Ryan and I were walking down the hill, and I simply asked them to look at each other. I put the camera on the ground for this low-angled photograph.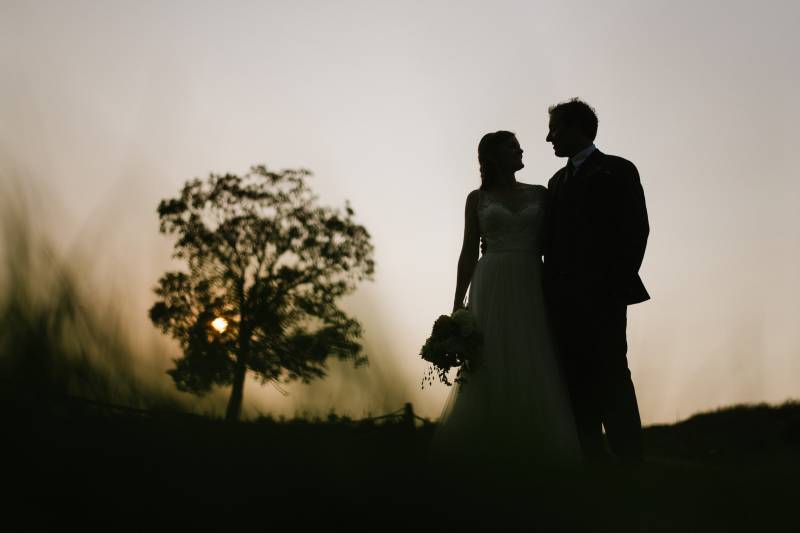 Fusion Slideshows - Andy's Fusion collection is becoming increasingly popular. "I love offering fusion slideshows because they provide wedding couples an entirely separate visual element - motion. This added element brings their story to life even more. When I work closely with my cinematographer in creating a fusion slideshow, our common goal is for the cinema footage to compliment the photography. The resulting fusion slideshows both seamlessly transition from cinema footage to still photographs, but offer a unique way for couples to relive and further appreciate their wedding memories."
This was in the groom's parents' backyard, which was also the wedding venue. Whenever people are having a shared experience, like sitting on a swing, it makes for a good photograph.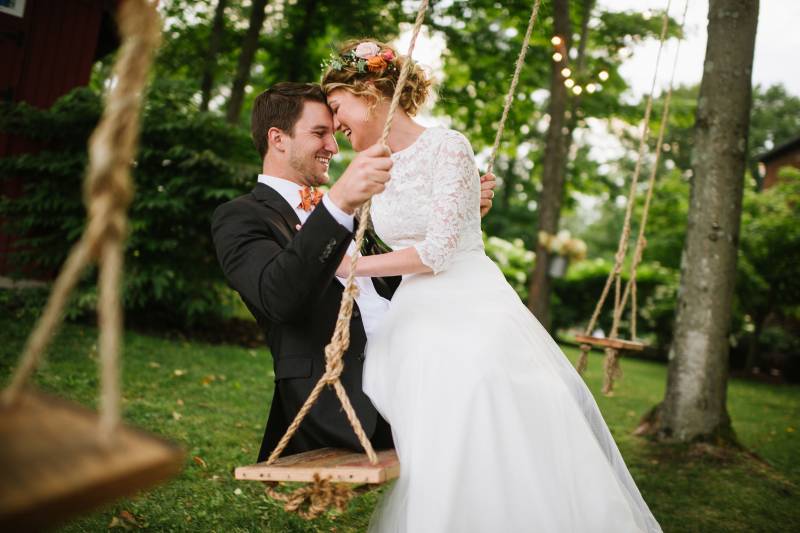 When you hire Andy Duback as your wedding photographer, you can expect passion, hard-work, creativity, and a custom experience from start to finish. As he explains, "it means a lot to me that I give every wedding my all, that I connect with my clients and that they know I'm there for them. At the end of the day, I expect to deliver photographs that they can cherish for a lifetime."
You will see many of Andy's photos showcased throughout VermontWeddings.com. I would like to take this opportunity to thank him for sharing his images with us so that you can see first hand, the passion and talent of our local Vermont businesses and artisans! Thanks, Andy!