If you are like me, you love all the beauty each season in Vermont brings. Early summer is no exception. In June, the peonies' journey culminates in blooms that emerge as if they have been holding a secret all spring to show their ultimate beauty for us. For Katie and Brian, these gorgeous peonies added that pop to their wedding day of natural beauty and simple elegance.
Set in front of a forest setting of beautiful tall trees, the couple did not feel they needed to do much to enhance the beauty of the location at The Inn at Manchester. The beautiful birch arbor was covered in greenery and peonies along with two peony arrangements on each side of the arbor.
Local Flowers are everything!
Katie told us, "We hired the most wonderful florist in Vermont! We went a non-traditional route and hired a flower farm." Flower Power VT Farm is located in Ferrisburg, Vermont and grows over 100 varieties of vibrant flowers, herbs, and heirloom vegetables - talk about Farm-to-Table!
Most of the flowers were grown by our florist so there was so much love and care put into each arrangement. We had long farm tables so we wanted the flowers to be dramatic and run down the center of each table. Katie recalls, "guests compliment the arrangements all night and they really made the room look spectacular".
Katie's bridal bouquet was dramatic with lots of greens, whites, peaches, and pops of deep burgundy.
While their style was simple and elegant, Katie and Brian added their own personality and flair to the wedding plans.
I always knew I wanted a clean/simple elegant look. My inspiration came from Carolyn Kennedy and her chic silk white wedding gown. The dress was form fitting, hugging all the right places -- with the back lined with small buttons. To complement the rustic scenery, the bridesmaids wore beige/sand soft bridesmaid dresses.
Brian "ditched the traditional suit and tux option and had a custom pant and jacket made for our wedding. Cream pants with a textured navy dinner jacket, velvet bow tie and velvet slippers to add a little flare. The groomsman wore navy blazers, cream slacks and a floral tie. The floral tie complimented the scenery and our peach peonies."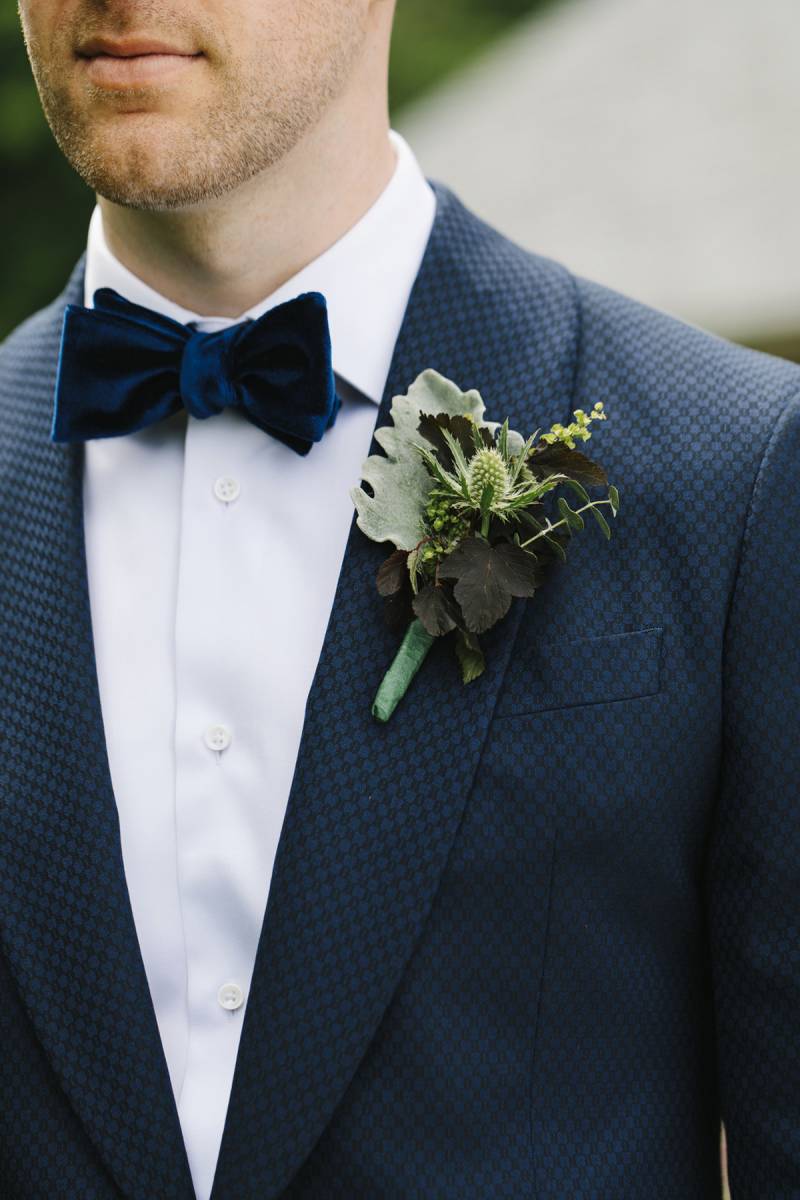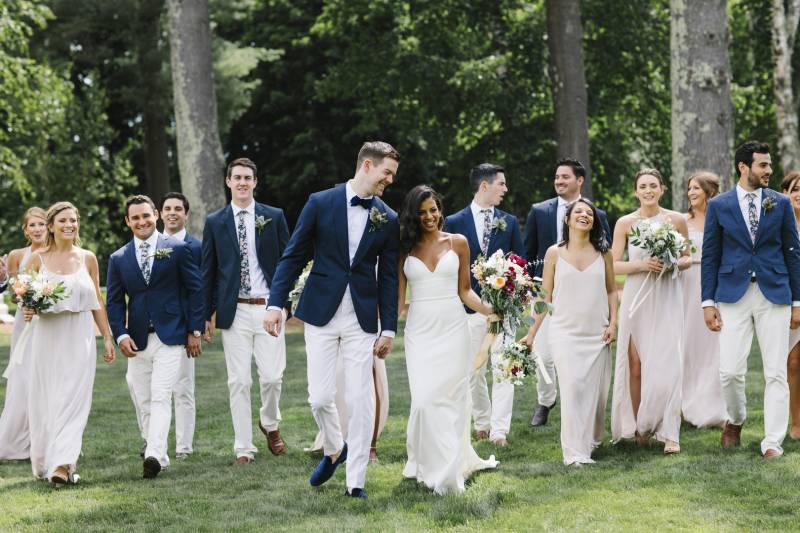 No traditional first dance for Katie and Brian. The couple danced to Beyonce's Love on Top, fast-paced and fun, symbolic of their relationship. The dance floor was now in full swing.
Forget the Cake!

This perfect summer's night was capped off with a fire and smore's while The Barn Resturant pulled up with their green horse trailer serving delicious Vermont maple ice cream and cider donuts. Such a sweet way to end a magical evening!
Katie's advice is sure to help others planning their own Vermont wedding,
"It's important to not lose sight of the whole purpose of the wedding -- which is to marry your best friend and to celebrate with your closest friends and family...I recommend creating an atmosphere and a celebration that is reflective of you and your significant other. I like to think that Brian and I are laid back and fun --- and that's exactly the atmosphere we wanted to create on our big day. Not too formal, with an outdoor ceremony, an outdoor cocktail hour with games, great drinks, fun and engaging band and most importantly -- the BEST company."