Today's post is, in a word, sweet. And that's not just because of the photos of MINT + MALLOW's delectable wedding desserts. Jocelyn, the baker behind the brand, is incredibly sweet herself! Her passion for spreading joy through desserts is contagious, and her story of becoming a wedding baker is as inspiring as her creations. Read on to learn more about this Vermont wedding baker.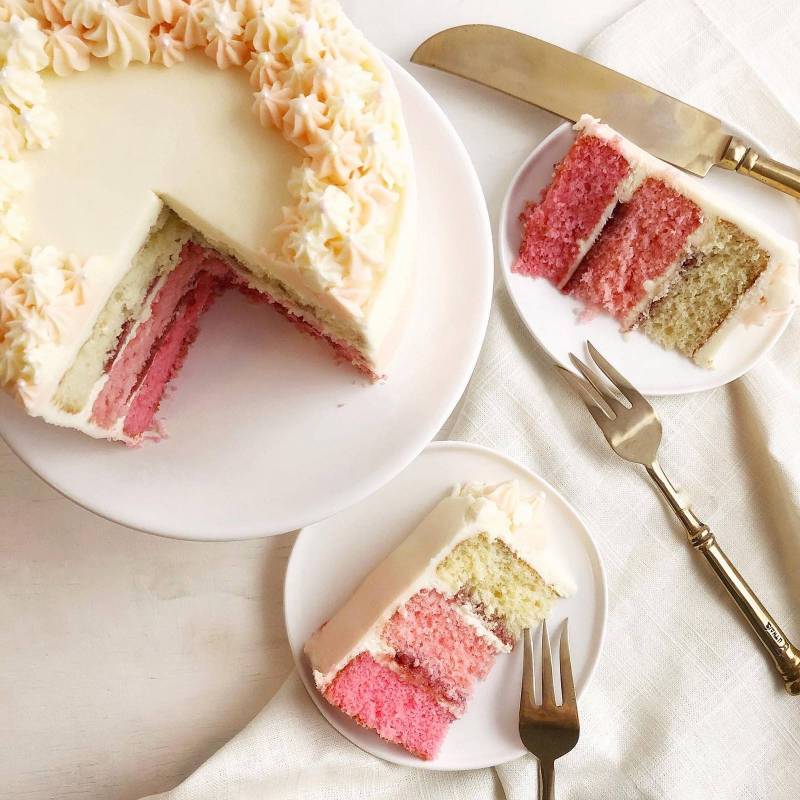 How did you get into baking?
My lifelong love of baking traces back to my amazing mother. Early in my grade school years, I began helping my mom with huge tiered celebration cakes she'd volunteer to make for local fundraisers. Whether working on those elaborate cakes or baking up the two- to three-thousand Christmas cookies we still make together every year, baking has always just felt like it was in my blood. I believe the fondness I have for all those baking memories growing up is a big part of why I still love the art of baking today.
Good food is a universal pleasure that can bring people together in a way few other things can, and making other people happy is always what has brought me the most joy in life.
How would you describe your style?
My baking style definitely tends towards a modern, simple elegance with a nostalgic touch hidden inside using classic and custom flavors alike. Often, even though my cakes may have a clean white buttercream finish, inside you'll find pops of sprinkles, cake crumbles, and flavors from the couple's childhood to make sure their personalities and histories are represented in every bite of their wedding day treats.
What inspires your work?
My couples! I always begin by working with couples on a free 30-minute Sweet Strategy Session where I help them really get clear on their vision both for their wedding sweets and how they want to feel on their wedding day from start to finish. This is important because the desserts should always aim to complement the overall vibe of the day. The goals of any wedding sweets I bake are to enhance the magic of the big day, and bring their vision to life to the best of my ability.
Any special tips for couples for choosing a wedding baker?
While technically all us bakers are baking and delivering a cake/desserts, there are MANY ways to go about doing that, and it is important to think about not only what you'll be getting in your wedding order, but also how it will ultimately get on the table.
I would start by finding a baker who really cares about who you are - who wants to know about your hopes and dreams for your wedding day, who is authentic in their communications, and who you know will take care of you every step of the way. In my experience, once you find that person who just makes you feel good, the rest of the details will naturally work themselves out.
What's your favorite moment during a wedding?
What I find most touching is when you can see the newlywed couple interact during those "in between" moments; the brief times they really get to focus on each other without worrying about who they haven't said hello to, how much time until the dinner is served, or if the next speech is going to be terribly embarrassing. In those moments, you see the truest and sweetest expressions of love between the couple.
What's your favorite thing to do in Vermont?
When you live in a state as lovely as Vermont, it's hard to have any favorite activity that isn't getting out into its gorgeous natural beauty. One of my favorite quick hikes that's close to home is the trail up to the Gile Mountain Fire Tower. It's especially magnificent in the fall.
In that same vein, my favorite restaurant locally is Cloudland Farm. Not only is the food farm fresh, locally sourced, and incredibly delicious, but they also have a BYOB policy that allows you to come early in the evening to sit out on the patio and sip your favorite drink while taking in a truly beautiful view of their pastures.
What's a fun fact about yourself?
My original career plan was to be a veterinarian. People always ask me how I decided to make the jump from studying veterinary medicine to pastry. Even though I loved to bake, I had always made excuses for why I shouldn't bake professionally. That all changed when I spent a college semester doing volunteer veterinary work in the Cook Islands off the coast of New Zealand.
One night at dinner with friends, I suddenly had an epiphany. I decided without a doubt, that I wanted to find a way to bake for a living, because it is what I knew would make me happiest by leaving a legacy of spreading joy in this world. Why did this moment of clarity come to me while waiting for a burger in a shack in Rarotonga? I may never know - but I thank my lucky stars every day that it did! I ended up rounding out my time at the vet clinic two weeks early and convinced the best local bakery in town to let me shadow in their kitchen for my last two weeks on the island. The rest is history!