Winter engagement photo shoots are gorgeous, but in a climate like Vermont, they can seen daunting. Luckily we have the tips you need to capture a photo worthy of a snow globe - without freezing in the process!
"I love winter sessions," says Vermont wedding photographer and native Danielle Allendorf . "They can be so romantic and cozy, and you don't have to freeze your butt off if you prepare!" Read on for our tips below.
The best time for a winter engagement photo shoot in Vermont
Have you heard the joke that if you don't like the weather in Vermont, just wait 5 minutes and it will change? It's true! If you are dreaming of a snowy, winter-wonderland-inspired engagement shoot, you'll need to be flexible with your timing so you can hit the fresh snowfall just right. Be open with your photographer about what you're hoping to capture, and if you have a hard deadline (for example, if you want to include photos in your save the date). That way your photographer can work with you to find a date that works for your vision and the timeline.
Also, note the short daylight hours during Vermont's winters. Sunrise is typically around 7:30 a.m. and sunset is typically around 4:30 p.m. If you get started in the afternoon, you may want to build yourself some buffer time to make sure you're not rushing to finish photos before it's dark.
What if there is no snow for your winter engagement photos?
That's ok! The muted background makes for a really lovely, neutral backdrop for your photos. Check out some of the ideas below!
The best outfits for your winter engagement shoot in Vermont
One of the biggest considerations for cold weather photo shoots is how to stay warm - especially your hands, since most brides want to show off the new ring! Bring gloves or mittens to wear in between shots. "I'll often bring hand warmers for couples to hold onto to ward off the chill," shares Danielle.
Outdoor photoshoots require careful consideration of your clothing - you want to look cute, but also be comfortable, so you can enjoy yourself. The solution? Channel your inner Hallmark holiday movie star with cozy sweaters, scarves, hats and boots.
"You can obviously bring a warm jacket to wear in between portraits, but I also recommend bringing outerwear you want to show off in some photos, like a pea coat," says Danielle. "That way you have options for different looks."
Scarves are a great accessory for winter photo shoots because you can tie them in so many ways to achieve a variety of looks. (Plus, you can use it as a backdrop for a closeup of your engagement ring.)
If it's going to snow during your shoot, consider bringing a change of clothes in case you get wet.
Finally, think about your background; greens and blues compliment the evergreen and snow landscape, while warm colors pop against the snow.
How to stay warm during your winter engagement shoot in Vermont
Use props, like blankets and scarves, to stay warm and add variety to your photos. (I used a blanket during my own outdoor winter engagement session, and we were so thankful to have an extra layer!)
You could also bring a thermos with a hot beverage (and mugs, if you want) to hold in some photos (and show off your ring!) and to take off the chill.
If the temperatures are particularly biting, you can also pop inside to warm up.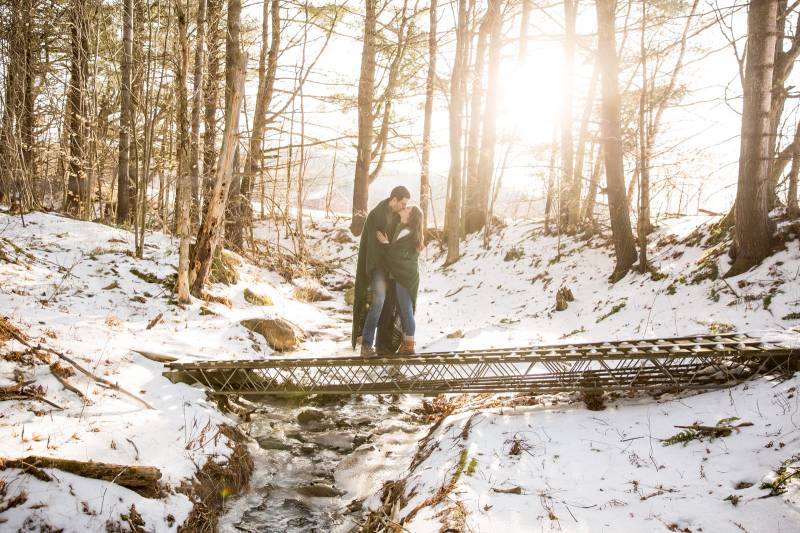 Outdoor photo ideas for Vermont winter engagement photo shoots
Have a snowball fight; make a snowman; make snow angels; catch snowflakes on your tongue

Frolic in a Christmas tree farm

Rock matching snow boots
Snuggle up to your partner under a blanket

Hold mugs of a hot beverage to stay warm

Take a sleigh ride
Go skiing or snowshoeing
Explore your favorite ski town
Indoor photo ideas for Vermont winter engagement photos
Cozy up at home together
Cheers at a Vermont brewery, wine bar, or coffee shop
Share a plate at a favorite Vermont restaurant
Snuggle up in a bookstore
How to ask if a local business is okay taking photos inside
If you're going to go to a business to take your pictures (like a brewery), it's a good idea to call ahead and ask the manager if it's okay. You can say something like: My partner and I love [business name] so much, we'd love to take our engagement pictures on site! Is that something you allow? When would be a good time for you?
Going at a slower time will be less stressful for everyone; you you can take your time taking photos without worrying about inconveniencing the business or random other patrons jumping into your shot. Depending on the location and their availability, they may even be able to open to you before/after hours so you can have the place to yourself!
(Be sure to leave a tip to show your appreciation!)
Check out the engagement blog for more inspiring Vermont engagement shoots.