Celebrating your winter wedding in Vermont presents unique opportunities (Skiing! Snow!) and some challenges (Cold temperatures! Snow!). Whether you're an adventurous couple looking to experience Vermont's famous ski slopes, or looking to create a cozy, indoor soiree, a winter wedding in Vermont can be a magical wonderland. Here are 11 ideas to inspiration your own Vermont winter wedding!
Wear a Winter Wedding Dress with Sleeves
If there was ever a season to rock a wedding dress with sleeves - it's winter. Whether you lean more boho or classic, there is a sleeve style to suit your winter bridal look!
(Bonus tip: rock tights and boots like the above bride!)
Rock a Fur Accessory Over Your Winter Wedding Dress
Nothing says winter chic quite like fur. Whether you wear a jacket or a shawl, fur is a timeless, cozy accessory that will keep you both warm and stylish while outside.
Keep your Bridesmaids Warm with Winter Accessories
Gift your bridesmaids coordinating scarves, mittens, or fur shawls to wear during winter bridal party portraits. They'll appreciate the extra layer, and they'll be warmed with the memories your wedding every time they wear them!
Go Bold with a Red Winter Wedding Color Palette
Red as your primary winter wedding color is a classic, bold choice. The festive color pops against winter's stark white, which makes for some dramatic photos!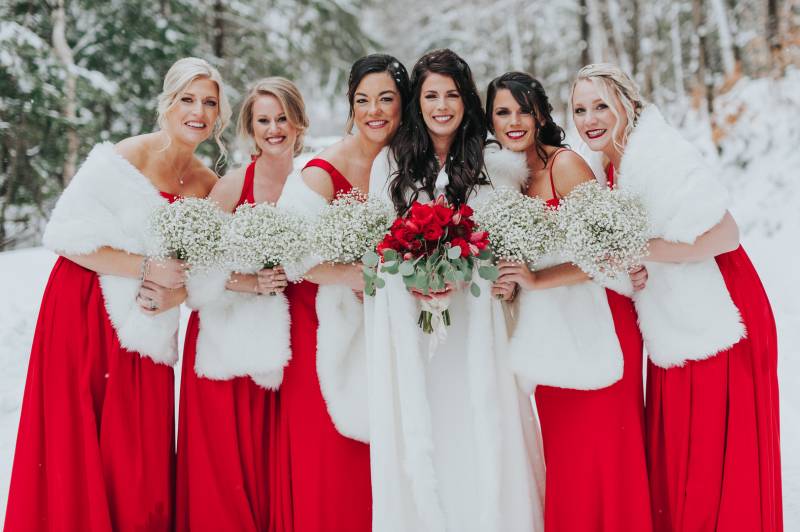 Or, Embrace Winter's Moody and Muted Color Palette
Lush, dark greens, moody florals, and muted pastels all reflect the colors of the winter season. These color palettes are simple and elegant, and let the natural beauty of your surroundings shine.
Carry an Umbrella for your Winter Wedding
If it's actively snowing, you'll appreciate the protection. As a bonus, an umbrella is a great prop for couple portraits!
Go Skiing During Your Vermont Winter Wedding
If you love to ski, why not take a run during your winter wedding? If you aren't up for braving the actual slopes (that would be me), you can incorporate your love of the sport into your winter wedding with a pair of skies to sign as a guest book alternative, or include a ski gondola wedding cake topper. (Not pictured, but very fun, would be shotskis at the bar as well.)
Exchange Vows or Take Your First Dance on Ice
Admittedly not everyone would be this comfortable on ice skates! But even if you're an amateur skater, incorporating an ice rink into your celebration is a unique, seasonally-appropriate activity that will definitely leave an impression on guests.
Have a Ring Warming Ceremony During Your Winter Wedding
This is a beautiful ceremony tradition during any season, but it feels particularly appropriate when the weather is chilly. You can have a sign near your ceremony entrance asking guests to hold your rings and infuse them with good wishes. Or, as part of your ceremony, have your officiant pass the rings around and ask your community to bless them.
Embrace Candlelight for Your Winter Wedding Decor
Nothing sets the scene for a cozy, elegant evening quite like candlelight glow! Even if you can't have real candles in your venue, battery operated candles and fairy lights achieve a similar magic twinkle.
Frolic in the Snow for Winter Wedding Portraits
Embrace the snow for your wedding pictures! Jump in (or have your partner carry you), snuggle up, and enjoy the magic of the winter season.
Ready to plan your Vermont winter wedding? Download the Ultimate Wedding Planning Bundle, our free wedding planning templates, to get organized, and visit the vendor guide to book your dream team.
Further Reading - Here are the weddings and elopements mentioned in this article: