As they had met in September, fall had always been a special time of year for Molly and Alex. That is why they choose to have a rustic fall-themed wedding at a summer camp in the Champlain Islands. On September 23, 2017, at Eagle Camp in South Hero, Vermont, Molly and Alex got married.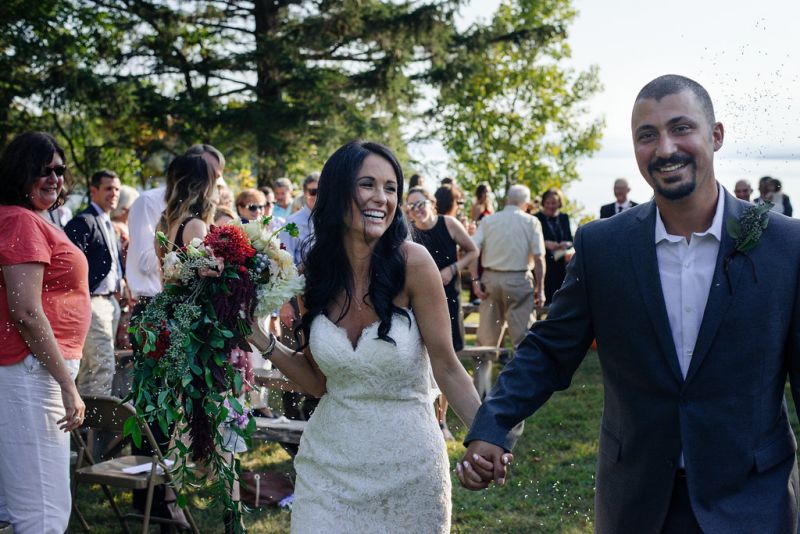 Eagle Camp ended up being the perfect place, with cottages at the camp along Lake Champlain for guests to stay in, and autumn decorations setting the tone. "The leaves were just slightly starting to change color, however, it was somehow 80 degrees." A hayride joined by painted lady butterflies brought the ladies to the ceremony, which took place in an apple orchard overlooking the lake.
For couples planning their wedding, Molly gives the advice to not forget what the day is really about, "It is about you and your soon to be spouse. Don't stress out over the little things."
Molly and Alex made sure to do that throughout their day, Molly and her mom danced and sang in the car to the song "Celebration" as it came on the radio. An even though due to pregnancy complications Alex's sister and her husband were unable to make it, they were still able to experience everything through Facetime. For the entire wedding, they were able to be present as the phone was passed from guest to guest.
Alex's mother read an emotional speech from Alex's sister and her husband, and the night ended on the beach next to a bonfire. Molly reminds that "It most likely is not going to be perfect but sometimes the bumps along the way are what make it memorable. Just have fun!"